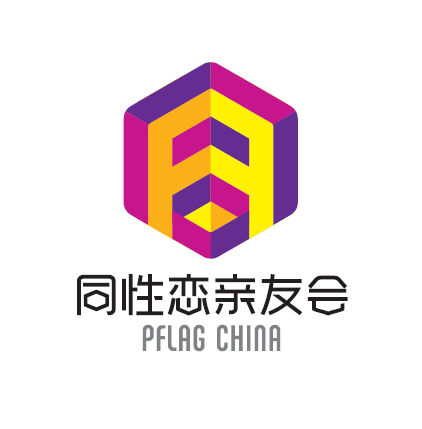 According to the latest Chinese NGO Governance and Transparency Index(GTI) ranking, PFLAG comes11th among 1758 NGOs with a score of 92.43, which tops the list in LGBT area.
GTI is an index representing the overall transparency of NGOs as a whole. It calculates the weighted average of a series of indicators including general information as well as information in general, governance, operation, program aspects. The score of GTI is set between 0 to 100, while a higher score represents a better transparency and vice versa. Average score of 1758 NGOs that were evaluated is as low as 32.48.
As executive director of PFLAG, A Qiang says, "a fairly large portion of PFLAG funding comes from individuals' donation inside the community. Thus, ensuring transparent information about the organization's operation and finance can only assure donors and more than 1200 volunteers but also help them understanding the operation of our organization. So far, PFLAG keep on publishing financial report on our website, social medial platform and our brief report. We also post annual information on our websites and they are available for downloading."
In foreign countries, transparency index of NGOs from third-party institution has been a concernful reference in donor's decision making process. According to A Qiang, PFLAG has always been actively promoting to create "transparent public welfare services". "In the future, we will keep trying to improve governance of the organization, promptly release financial and program information, increasing the transparency to a higher level."
To visit PFLAG website and donate, click on http://www.pflag.org.cn/
GTO ranking was initiate by independent public welfare internet platform USDO, which is found and supported by over 100 NGOs. USDO was established on October 30th, 2009 with all participants signing the "USDO self-regulation standard", agree to promote self-discipline and increase credibility of public welfare service.
Link: PFLAG China was found in 2008. So far, PFLAG has develop work in nearly 50 domestic cities, with more than 1200 volunteers and a headquarter in Guangzhou. Its program such as Leadership Camp for PFLAG supporters, PFLAG conferences as well as sharing sessions earns high recognition in the nation.
PFLAG hotline 4000-820-211 8:30-10:30 p.m. everyday
PFLAG Parent Exclusive QQ Online Chat Group : 471347485 provides online counsel.
Source: Transparency Index
Website: http://www.pflag.org.cn
Tags Public Financial Info Organization Construction Media Report
---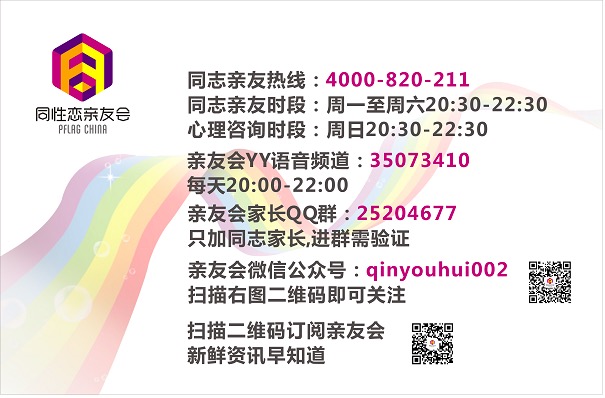 出柜神器《认识同志》你有木有?!

点击下方图片,马上去亲友会淘宝店索取一本,书本身是免费的,小伙伴们只要出邮费哟~~~或在淘宝搜索:同性恋亲友会